In 2014, the participants in the net economy became a major force in the French real estate landscape, shaking up the traditional types of occupier of offices in Paris and other regions. Through interviews with Parkadom (a car park sharing site), 1000mercis (an agency specialising in data marketing), Le Pot Commun (the online cash pooling service) and many others, the report analyses the stakeholders and their impact on the national economy as well as the constraints and real estate issues relating to this booming economy.
GET THE STUDY
Throughout this report, experts, academics, large companies, start-ups and real estate professionals share their vision and experience on a current theme that is changing the way we work and therefore the way we think about offices and buildings.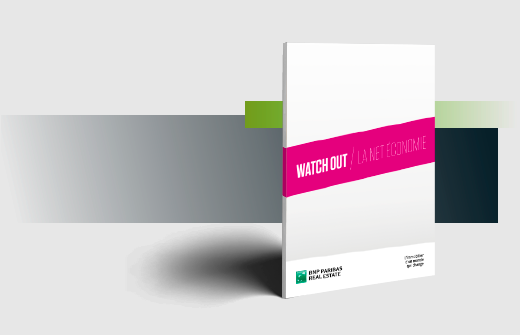 Click here to receive the study

-
BNP Paribas Real Estate, société par actions simplifiée, 167 quai de la Bataille de Stalingrad, 92867 ISSY LES MOULINEAUX traite des informations à votre égard comme des données d'identification incluant des coordonnées dans le but de traiter les demandes que vous nous soumettez via le site web et, dans certains cas, à des fins marketing, entre autres à l'aide de cookies. Pour plus d'informations concernant la façon dont BNP Paribas Real Estate traite vos données personnelles dans ce contexte ainsi que sur vos droits (notamment vos droits d'accès, de rectification, d'opposition au traitement à des fins de prospection et votre droit de donner des directives relatives à l'utilisation de vos données à caractère personnel après votre décès ainsi que, dans certaines circonstances, un droit à l'effacement, à la limitation du traitement, à la portabilité des données et un droit de s'opposer à d'autres formes de traitement) et les obligations de BNP Paribas Real Estate à cet égard, nous vous invitons à consulter notre Notice Protection des données accessible via https://data-privacy.realestate.bnpparibas/.