With this report, Smart Metropolis Lille, we offer you a new insight into the challenges facing the Lille metropolis as a smart metropolis. Through economic, mobility, quality of life and environmental questions, as well as testimonials from local and international decision-makers and key figures from the real estate market, increase your knowledge of the following issues:
What are the different characters of the Lille metropolis: Lille European Metropolis, metropolis/campus, urban agricultural metropolis?
How and to what extent does Smart Metropolis Lille fit into the cross-border dynamic of a European metropolis?
How are major urban projects such as the new Saint-Sauveur district, Euralille 3000 and PLU2 (a local urban development plan) sustainably reshaping the Lille metropolis?
GET THE STUDY
The Smart Metropoles collection invites you to view French and European metropolitan centres that are part of our dynamic future through the prism of the Smart City. Economy, mobility, lifestyles, population and the environment are considered, as well as future major urban projects that will shape the cities of tomorrow.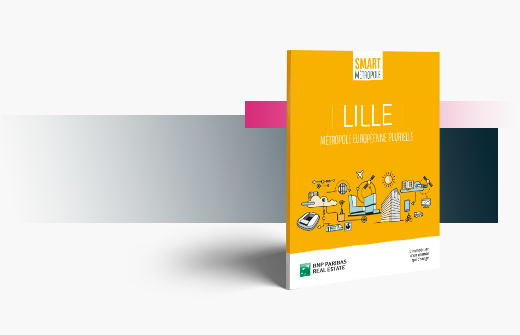 Click here to receive the study

-
BNP Paribas Real Estate, société par actions simplifiée, 167 quai de la Bataille de Stalingrad, 92867 ISSY LES MOULINEAUX traite des informations à votre égard comme des données d'identification incluant des coordonnées dans le but de traiter les demandes que vous nous soumettez via le site web et, dans certains cas, à des fins marketing, entre autres à l'aide de cookies. Pour plus d'informations concernant la façon dont BNP Paribas Real Estate traite vos données personnelles dans ce contexte ainsi que sur vos droits (notamment vos droits d'accès, de rectification, d'opposition au traitement à des fins de prospection et votre droit de donner des directives relatives à l'utilisation de vos données à caractère personnel après votre décès ainsi que, dans certaines circonstances, un droit à l'effacement, à la limitation du traitement, à la portabilité des données et un droit de s'opposer à d'autres formes de traitement) et les obligations de BNP Paribas Real Estate à cet égard, nous vous invitons à consulter notre Notice Protection des données accessible via https://data-privacy.realestate.bnpparibas/.