Standards, labels and other certifications are rife in many areas, and real estate is no exception. As guarantees of environmental, societal or energy requirements, it is important to be aware of these. To better understand the key concepts related to certifications and labels, download BuzzWords published by BNP Paribas Real Estate.
But how can these tools be identified and evaluated amid a jungle of acronyms?
In what way can certifications, labels and standards be seen as major drives for quality and performance?
BuzzWords Labels and certifications
GET THE BOOKLET
These short educational booklets explain an essential concept of current and future real estate through key figures and practical cases.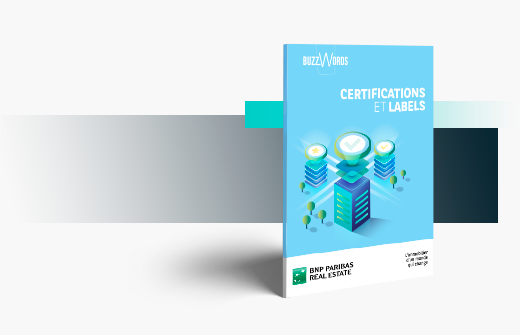 Click here to receive the booklet

-
BNP Paribas Real Estate, société par actions simplifiée, 167 quai de la Bataille de Stalingrad, 92867 ISSY LES MOULINEAUX traite des informations à votre égard comme des données d'identification incluant des coordonnées dans le but de traiter les demandes que vous nous soumettez via le site web et, dans certains cas, à des fins marketing, entre autres à l'aide de cookies. Pour plus d'informations concernant la façon dont BNP Paribas Real Estate traite vos données personnelles dans ce contexte ainsi que sur vos droits (notamment vos droits d'accès, de rectification, d'opposition au traitement à des fins de prospection et votre droit de donner des directives relatives à l'utilisation de vos données à caractère personnel après votre décès ainsi que, dans certaines circonstances, un droit à l'effacement, à la limitation du traitement, à la portabilité des données et un droit de s'opposer à d'autres formes de traitement) et les obligations de BNP Paribas Real Estate à cet égard, nous vous invitons à consulter notre Notice Protection des données accessible via https://data-privacy.realestate.bnpparibas/.