Collaborative work has become a lever for performance and recruitment. Workspaces are a part of this change by becoming hybrid. The depletion of natural resources and climate change are making it necessary for buildings and urban environments to be optimised to reduce their environmental impact. Faced with these global challenges, intelligence, in all its forms, has come up with answers that are already being reflected in specific examples (Renault Group, Orange, Samsung, My Little Paris).
Watch out - Intelligence(s)
GET THE STUDY
Throughout this report, experts, academics, large companies, start-ups and real estate professionals share their vision and experience on a current theme that is changing the way we work and therefore the way we think about offices and buildings.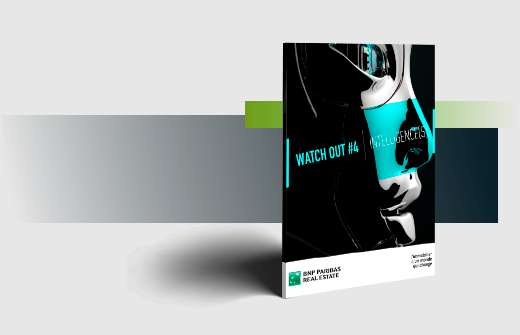 Click here to receive the study

-
BNP Paribas Real Estate Advisory & Property Management Luxembourg SA, Kronos Building 10, rue Edward Steichen, 2540 Luxembourg - uses cookies and other methods to process information about you (such as identification data, including your contact details) for the purposes of processing the requests that you send to us via the website and, in some cases, for marketing purposes. For further information about how BNP Paribas Real Estate Advisory & Property Management Luxembourg SA processes your personal data in this context and about your rights (including your rights of access, correction, objection to processing for marketing purposes and your right to give instructions on how your personal data will be used after your death as well as, in certain circumstances, a right to erasure, to restrict processing, to data portability and a right to object to other forms of processing) and BNP Paribas Real Estate Advisory & Property Management Luxembourg SA's obligations in this area, please take a look at our Data Protection Notice available at https://data-privacy.realestate.bnpparibas/.