In thirty years, the web has not only transformed our ways of communicating, it has also completely changed our consumption habits. Digital is now an integral part of consumer purchasing behaviour. In order to respond to new requirements everywhere, all the time, retail is joining forces with logistics: retailog is now asserting itself as a field of innovation at the service of a unified customer journey.
Through an inventory of operational best practices and the insights of leading experts on the various international markets, the fourth BNP Paribas Real Estate TrendBook provides a comprehensive overview of the new face of retailog, to understand the interactions that are restructuring the retail and logistics real estate sectors. Get your copy of the TrendBook on the Future of Retailog now!
What have been the main trends in retail in recent years?
What has been the impact of multi-channel retail?
How can retailers respond to this new market dynamic?
What is the future for real estate? 
Trendbook The future of Retailog
GET THE STUDY
Each TrendBook looks at the actual changes affecting the real estate market in one way or another. International experts in the sector are given the chance to talk through analyses, testimonials, case studies and key figures.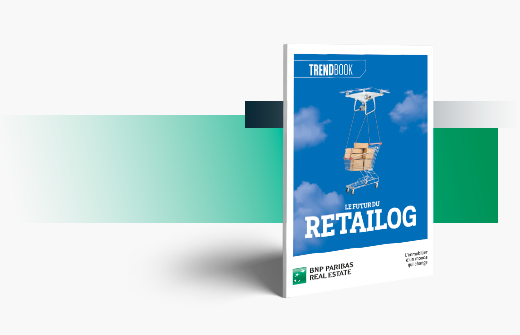 Click here to receive the study

-
BNP Paribas Real Estate, société par actions simplifiée, 167 quai de la Bataille de Stalingrad, 92867 ISSY LES MOULINEAUX traite des informations à votre égard comme des données d'identification incluant des coordonnées dans le but de traiter les demandes que vous nous soumettez via le site web et, dans certains cas, à des fins marketing, entre autres à l'aide de cookies. Pour plus d'informations concernant la façon dont BNP Paribas Real Estate traite vos données personnelles dans ce contexte ainsi que sur vos droits (notamment vos droits d'accès, de rectification, d'opposition au traitement à des fins de prospection et votre droit de donner des directives relatives à l'utilisation de vos données à caractère personnel après votre décès ainsi que, dans certaines circonstances, un droit à l'effacement, à la limitation du traitement, à la portabilité des données et un droit de s'opposer à d'autres formes de traitement) et les obligations de BNP Paribas Real Estate à cet égard, nous vous invitons à consulter notre Notice Protection des données accessible via https://data-privacy.realestate.bnpparibas/.