Initially favoured by start-ups for its flexible leases and user-friendly design, coworking is surfing the "nomadic" work trend that is today gaining ground in companies of all sizes. In every European capital, coworking areas are on the increase, especially with the growth of pure players. Major market players are unveiling key propositions for a fast-growing market. The other side of the coin - coliving - is not far behind and is being carefully scrutinised by the market participants. Get your copy of the TrendBook on coworking and other co-arrangements!
How are companies rethinking their working environment?
How can the rise of coworking and other intermediary workspaces be explained?
Is coworking really profitable, both for the coworking office and for its coworkers?
Does coworking spell the end of the traditional office?
Is market saturation to be expected?
TrendBook Coworking and other sharing
GET THE STUDY
Each TrendBook looks at the actual changes affecting the real estate market in one way or another. International experts in the sector are given the chance to talk through analyses, testimonials, case studies and key figures.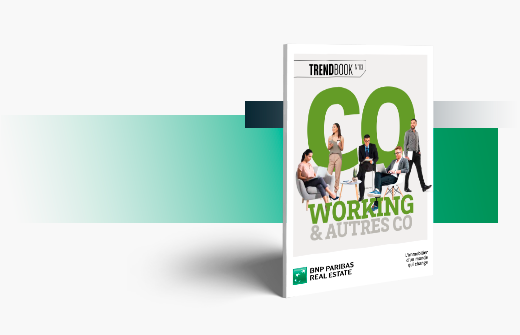 Click here to receive the study

-
BNP Paribas Real Estate, société par actions simplifiée, 167 quai de la Bataille de Stalingrad, 92867 ISSY LES MOULINEAUX traite des informations à votre égard comme des données d'identification incluant des coordonnées dans le but de traiter les demandes que vous nous soumettez via le site web et, dans certains cas, à des fins marketing, entre autres à l'aide de cookies. Pour plus d'informations concernant la façon dont BNP Paribas Real Estate traite vos données personnelles dans ce contexte ainsi que sur vos droits (notamment vos droits d'accès, de rectification, d'opposition au traitement à des fins de prospection et votre droit de donner des directives relatives à l'utilisation de vos données à caractère personnel après votre décès ainsi que, dans certaines circonstances, un droit à l'effacement, à la limitation du traitement, à la portabilité des données et un droit de s'opposer à d'autres formes de traitement) et les obligations de BNP Paribas Real Estate à cet égard, nous vous invitons à consulter notre Notice Protection des données accessible via https://data-privacy.realestate.bnpparibas/.